ALL1001-Z          First 6 Weeks       Mondays   10:30am-11:50am        Start Date 29-Jan
Zoom                   Limit 25
This six-week course will prepare parents and grandparents to "teach and amaze" their children and grandchildren. The coordinator will use children's books to teach simple science concepts. Each week, she will cover one aspect of science: physics, chemistry, astronomy, earth science, life science, and process skills. During this course, students will learn how to use a handheld microscope. Participants will need a computer to view each activity and download printable sheets from the coordinator's website, which will be provided. Please have scissors, tape, glue stick, ruler, crayons, or colored pencils available for use during class. Additional materials necessary to participate in each activity will be available to pick up at the ALL office or at the coordinator's home. She will use a document camera so that she can help participants with the activity.
Coordinator:  Patricia McKean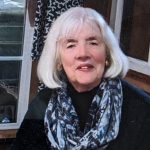 Pat, a classroom science teacher for 44 years, received the Connecticut Christa McAuliffe Fellowship for her program, Using Children's Literature to Teach Science. She has presented teacher and student workshops nationally and internationally and specializes in teaching science through literature. She currently serves as a science education consultant and as a peer reviewer for the National Science Teachers Association's Journal Science and Children.