ALL1313-Z     First 6 Weeks     Wednesdays 3:00-4:20     Start Date 13-Sept
Zoom     Limit 25
I love to cook, but don't take it too seriously! I am self-taught and far from professional, but I have worked in restaurants, designed and built my own kitchen, and like nothing better than sharing a meal I have prepared with friends and new acquaintances. In this zoom class I will email a recipe (maybe two) before each session, then prepare it for you. You can watch or cook along with me in your kitchen, and we will all share tips and stories.
Assignment: None, unless you would like to purchase the ingredients from the recipe I will provide before each class and cook along with me!
Coordinator:
Carol Coteus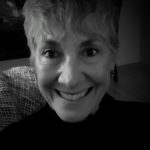 I had a rich and varied career which included all operations of the restaurant and food service industry, followed by several years as a travel agent, and finally as teacher and administrator in the field of early childhood education. Although these may seem very different career paths, the
common bond is people. I love people, and the best way to bring people together is through a good meal. I love to share recipes with others, to read cookbooks, and to hear what others are cooking.