ALL1326-C     12 Weeks     Wednesdays 12:00-1:20     Start Date 13-Sept
Grossman 115            Limit 12
A surprising number of people have written (or are currently writing) novels. This class is for  wanna-bees and will discuss your ideas, how to get started (how to do research if needed), how to plot, develop characters, and eventually publish. Local authors will be invited to share their learnings and, maybe their frustrations.
Coordinator: June Calender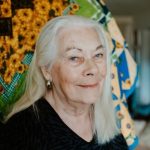 June has been teaching writing courses for ALL for over 10 years, and her approach has varied. She has edited the ALL anthology, Reflections, for several years. Prior to coming to Cape Cod, June was an off-Broadway playwright (as far off as Alaska). June has recently published a novel called The Friendship Quilts.